<!form method="get" action="http://dt-go.com/cgi-bin/mt/mt-search.cgi"> <!input type="hidden" name="IncludeBlogs" value="3" /> <!input type="hidden" name="Template" value="daddy" /> <!input id="search" name="search" style="width: 270px; height: 15px;" /> <!input type="image" src="http://daddytypes.com/search.gif" height="18" width="159" border="0"> <!/form><!br />
Creative Playthings Puppet Theater On eBay Looks Like Laugh-in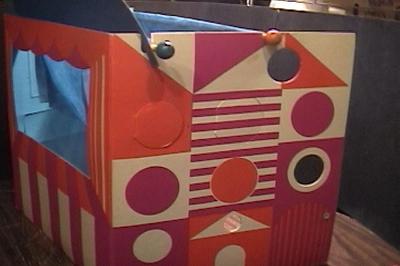 Was it something in the air? Which came first? Because this psychedelic little Creative Playthings puppet theater, with walls full of little puppet openings, is dated 1968, the same year that Laugh-in, with its joke wall full of little actor openings became an instant hit TV show and made Goldie Hawn a star.
See, Kate Hudson's mom is also an actress, and even before Private Benjamin and-- Before SNL there was-- never mind. I feel really old all of a sudden.
Anyway, this rig looks to be in pretty good shape, with its printed cardboard graphics intact. It's about 18 in. across the front. With the addition of a Flip Wilson puppet, your child can amuse and/or horrify his grandparents for hours this Holiday season.
CREATIVE PLAYTHINGS PUPPET STAGE, ends Oct 29 [ebay]
posted October 24, 2006 8:26 AM | add to del.icio.us | digg this
<!something is wrong with my adserver, so until I fix it, no ads>