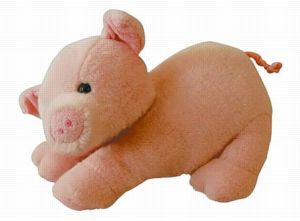 How long does it take to complete a character licensing deal, you wonder? Let's see, Buffy The Vampire Slayer went off the air in 2003, and 2006 is almost over...
Entertainment Earth is promising to bring out a limited edition Mr. Gordo pig doll to satisfy the pent-up plushie urgese of Buffy fans--and perhaps their babies, if any of them have managed to spawn in between DVD marathons.
The only slightly funny thing, of course, is that the real Mr. Gordo was just a normal product, a $20 Manhattan Toy Co. Meekieminks doll named Peaches, which was discontinued several years ago. Now Peaches has been reincarnated and forced to walk the earth again. Forever.
Buffy Mr. Gordo Stuffed Plush Pig Replica, $39.99 [entertainmentearth via wonderland]