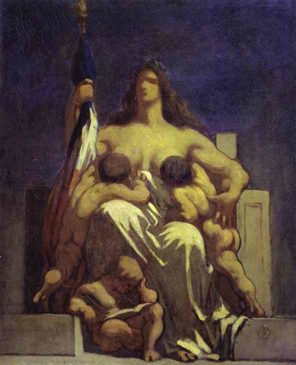 Vivent les poitrines de la République!
Marianne, breastfeeder of the nation, by Daumier [via musee d'orsay]
What with all the guaranteed maternity leave, subsidized childcare--including government-subsidized daycare or tax credits for nannies--government bonus payments for having multiple children, and even discounted train fare for everyone until the kids turn 18, France sounds like the best freakin' country on earth for working mothers.
Following a policy instituted a century ago to stimulate population growth, the French government does such a good job taking care of mothers, in fact, that dads apparently don't even need to raise a finger. They don't need to let family matters disrupt their important work or career schedules, and they can pursue their lives knowing that their wives are taking care of their families, with the government's help. At least that's what I assume, because there's not a single mention of a dad-related policy or program in this entire Washington Post article.
As Europe Grows Grayer, France Devises A Baby Boom [washpost via tmn]