No one in the Boardbook Industrial Complex needs less publicity than Eric Carle [1]. Even an army of Miffy, Elmo, Blues Clues, Disney Princess, Thomas, Spongebob, plain old Bob, Dora, and The Wiggles is powerless to keep Carle's distinctive [and, granted, classic] books out of tiny hands. And that's fine.
But it didn't prepare me for the veritable Cult of Carle I found in Japan last year. The dude is a watercolor-collage juggernaut. There was a massive exhibit of Carle-iana in a bookstore at Roppongi Hills, and I've since noticed regular, reverential mentions of Carle in Japanese media and toy and bookstores.
I thought I remembered a giant boardbook special edition of The Hungry Caterpillar with a huge plush worm selling for something like 20,000 yen [almost $200], but in English and Japanese, all I can find is this mid-sized [14x16-inch] combo version for $17.
[The straightforward Japanese plush caterpillar seems better-designed than the full-of-gadgets US version, though to a grabby baby, the decision probably breaks the other way.]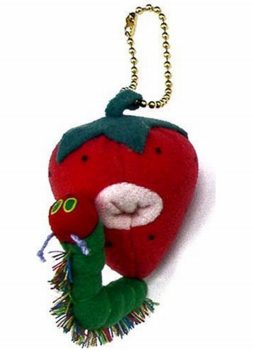 What's easier to spot, though, are these
tiny Hungry Caterpillars
designed to dangle on a keychain or a cellphone, two things which even the techiest Japanese infants do not possess.
Hungry Caterpillar "Mini-Mascots" come in strawberry, pear, and nice green leaf versions [amazon japan]
[1] Unless it's to discuss his exaggerated hatred of aphids, using ladybugs to teach meanness, or his building a children's book art museum and naming it after himself. You say the word, I'll clear my calendar.