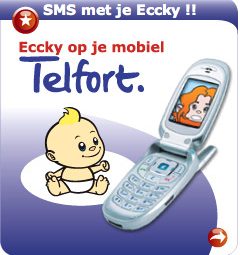 Eccky is a giant marketing platform disguised as a social networking game, where Dutch folk sign up, pair up [if you didn't bring a partner, one will be "Love Matched" to you], and birth a virtual baby. The baby, called an Eccky [more on the name in a minute], resides as a chatbot in your MSN Messenger buddy list, and as an avatar on your Java-enabled phone. You feed and care for it during its six-day childhood using SMS and chat messages.
The "WTF is Eccky?" blog entry is very upfront about the site/game/network's purposes beyond "social networking", including something I know I'm always feeling a shortage of in my life: "a lot of interesting ways to integrate real world brands and products in relevant ways."
Ecckies will be chatting about how they're covered from birth with insurance from OHRA, a Dutch financial services firm. And they'll bug you for clothes from the Eccky-sized, in-game H&M boutique. You can meet other Eccky parents via their profiles, but it doesn't sound like there's a big virtual gamespace like Warcraft or The Sims.
But even if it's not Second Life, for NeoPet aficionados out there, raising a child through SMS will at least be second nature.
But about that name: Eccky is derived from the Japanese word "ecci," [actually pronounced "etchy"] which CNet translates as "naughty." Close, but not quite.
If you know that "hitori" means "one," you can slip away to the bathroom for a few minutes to translate "hitori ecci" for yourself. "Ecci suru," meanwhile, is what you do that makes a baby, and it translates politely as "to do the nasty." In either case, it's a nearly perfect name for a service that serves you up to advertisers in exchange for some rudimentary social simulation. It reminds me of a saying attributed to Mike Bloomberg from his cutthroat trader days: "Make the customer think he's getting laid when he's getting f***ed."
The game's all in Dutch, but Eccky Blog is in English. [eccky.com via nabee (aka startupdad) who doesn't like it much, either: "The idea of a messenger bot going from "gaga" to "I hate you dad" does not count as satisfying gameplay."]