Mercedes: 1, BMW: 0: When a delivery van pulled in front of my wife this morning as she was driving our old 1985 Mercedes Tank Coupe, she stopped short. Far shorter than the BMW 6-series behind her, has it turns out. The BMW guy shredded his front end, while the MB has not a scratch. I think those Xenon headlights are like $50,000 a piece, too.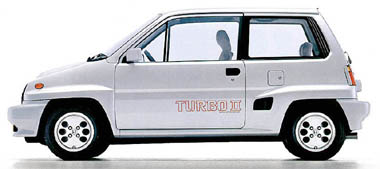 Honda Now: 2, Honda Then: -1 Wow, I saw the new CRV in person this week, and contrary to early photos, it's surprisingly non-ugly. Thoughts?

Also, growing up, my favorite micro-Honda was theCity Turbo [which was created by Honda's founder's son, who also started Mugen. The City was one of the first tricked-out Asian streetracers. And Honda never saw fit to bring it to the US, even though Road & Track put it on their best cars around lists for years. ...] And though this morning's bumper thumper may vindicate me a bit on the "they sure don't build'em like they used to" issue, I'm picking up a pretty strong no-more-old-cars vibe around the house. So I wonder about the Fit, which is kind of growing on me.

In the world of major purchase decisionmaking, "well, how much car can you afford?" trails only "spend two months salary for a ring" for sheer economic, moral, environmental, and social bogosity. So as we start thinking and talking about a new car, I'm really interested in how much car people find they actually need and use. And except for maybe the Scion, you can hardly buy less of a car right now than the Fit.