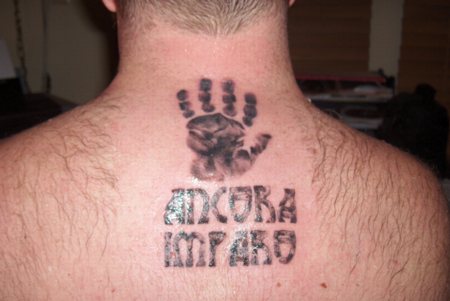 Along with this picture, DT reader Tom sent in a bit of the backstory, so to speak, for his new ink, which he got to commemorate the completion of their two-partner adoption of their daughter. With a tatoo this sweet, I don't know when Tom'll ever wear his Daddy Type t-shirt:
I got a tattoo of my daughter's hand
print on my back. I put the quote ANCORA IMPARO underneath, which is
Italian for "I am still learning." Those were Michelangelo's alleged last words, and as an artist and a teacher, I found the words to be pretty significant. Add in being a new Dad, and well, that says it all.

I saw the tattoo that you featured on your blog a few months back, the one with the kid's hand prints on the guy's back, and that inspired me to combine the two elements together into one tattoo.

It was a total ordeal getting her handprint in my sketchbook for the tattoo artist to copy. Two grown men wrestling with a 10 month old. Add an ink pad and black ink, and well, it was a mess. But we did get a good print and Bill, the tattoo guy, did a great job copying it.
Congratulations all around and nice work. It's been a few months since we've seen any new dadtats out there. Anyone else seen--or gotten--some new ink?
Previously: daddy tattoo from flickr; babies & tattoos & you; ink's still wet on this Phil & Ted's tattoo; "am I the only one who's tired of yet another Eames tattoo?"