<!form method="get" action="http://dt-go.com/cgi-bin/mt/mt-search.cgi"> <!input type="hidden" name="IncludeBlogs" value="3" /> <!input type="hidden" name="Template" value="daddy" /> <!input id="search" name="search" style="width: 270px; height: 15px;" /> <!input type="image" src="http://daddytypes.com/search.gif" height="18" width="159" border="0"> <!/form><!br />
Vintage Rock T-shirts For The Conceived-At-Woodstock Generation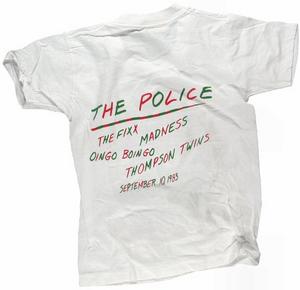 And here you thought
80's OC Punkers' kids
had all the fun? Not anymore.
In addition to an impressive assortment of real, vintage concert T-shirts, posters, and memorabilia--did someone come across a defunct promoter's stash at one of those storage unit auctions?--Wolfgang's Vault has also reproduced a small-but-tasty collection of vintage rock concert-inspired designs on kid-sized T's and Onesies, too.
How vintage are we talking about, though? The of the five kids' shirts, four--Hendrix, Cream, one Led Zepellin, and The Doors--are from concerts in 1968 or '69. [The other Led Zep shirt is from 1977.] Same with the Onesies: three from 1968-9, and one Stones design from '72.
So what, you say? Didn't all these concerts take place before most of today's crop of new parents was even born? Or at least before we started going to rock concerts? I know my first concert wasn't until like 1975, and that was still the freakin' Osmond Brothers. [Wait, did I just cop to attending an Osmonds concert? Not how I wanted to start the week.]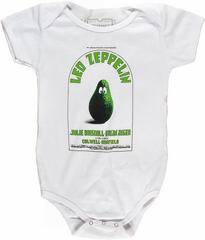 No, in order to project our own concertgoing experience on our kids, we have to go to the actual vintage kidswear. Springsteen, the Dead, Journey...or this insane lineup from a 1983 Concert On The Green in Oakland: The Police, The Fixx, Madness, Oingo Boingo and Thompson Twins. [$45, roughly a contemporary size 6x, whatever that means].
Or for even more variety, why not break out a sewing machine and make a kid's bodysuit from an authentic, adult-sized vintage concert T? Then your kid could roll around a modded Sammy Hagar outfit [minus the tequila]. And what better way to share with your offspring the enlightened, formative giddiness of your Greatest Summer Job EVER, than with his very own Yanni Crew '94 jumper? Turns out you can buy memories like that--for $28, check the sizes.
Wolfgang's Vault [wolfgangsvault.com via dt reader josh]
previously: Old School OC: 80's Punk Flyers on Onesies
posted October 9, 2006 3:10 PM | add to del.icio.us | digg this
<!something is wrong with my adserver, so until I fix it, no ads>