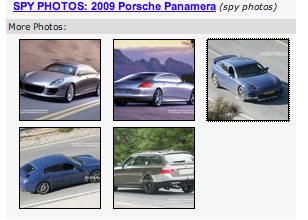 WorldCarFans has spy shots of a test mule for the coming four-door Porsche, the Panamera. They call it "the 'family' Porsche." Quite an impressive transformation from the brand's previous positioning ["the dad who sees his kids every other weekend and for a month in the summer's Porsche"] or even from the Cayenne ["the guy who doesn't have any kids--that he knows of, heh heh--'s Porsche"].
The engine options range from the Cayenne's current 300hp 6-cyl to some 8-cyl's to the 700hp [!!] 10-cylinder from the Porsche GT--to a freakin' hybrid. They're testing that GT engine inside that BMW 5-series wagon at this very moment.
With a debut set for Geneva 2009, you still have time to a) get a job that makes you mad money, even if it consumes all your waking hours, b) conceive and give birth to some backseat passengers, and c) quit said job, live off the interest, and raise the little rugrats, all before they call your number from the Panamera waitlist.
Or if you're not a Porsche purist, you could bag it, save yourself a couple years' tuition, and get a Lexus GS instead, no waiting.
SPY PHOTOS: More Porsche Panamera [worldcarfans via jalopnik]