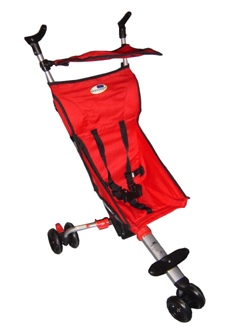 We generally give the Baby Industrial Complex a thorough drubbing around here, but when they get a product right, I'm happy to give it the credit it deserves. In such cases, we then redirect our drub toward the siloed bureaucracies that keep said decent product beyond our grasp.
Exhibit 1: the Quicksmart Backpack Stroller, which is sold in Australia by Safety 1st. [S1 is, of course, part of Dorel (TSX: DII.A, DII.B, NASDAQ: DIIB), along with Quinny, Cosco, Maxi-Cosi, and Bebe Confort].
All the innovation that didn't go into the Backpack Stroller's name went into its design; introduced around 2004, the BS [umm...] is a tiny, three-wheeled marvel that folds in seconds into a little backpack that rivalled the Dorel/Quinny Zapp for folded smallness. [It also rivals those $9 pieces of junk at the drugstore for hilariously useless canopies; or maybe it's really a magazine rack that happens to provide a little shade.]
There's also a four-wheeled model called the Easy Fold. [a vestige of the earlier working title for the Backpack: the Not-So-Easy Fold. Watch the Transformer-worthy, animated folding sequence to see what I mean.] It's small and light, not backpack-small, but still.
Anyway, a couple of folks have emailed about the Quicksmart over the last year or so [shoutout to Mark & Antoine], but then yesterday, DT reader Gretchen dropped a bomb: one strollerhound must have used his one carry-on bag limit for that 22-hr Qantas flight home, because she spotted a Quicksmart at a playgroup stroller parking lot in Bangor, Maine. USA.
Considering the 3-to-4 wheel redesign the Zapp is getting in order to come to the US someday, I doubt Dorel's even considering bringing the current Backpack to the US. Start your transglobal, indemnity-waiver-signing smuggling operations...now.
Quicksmart Backpack Stroller is $AU99 [$US75!], while the Easy Fold is $AU160 [$US120!]
Don't forget that Backpack folding animation [quicksmartideas.com.au]