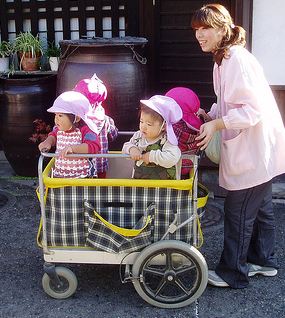 Check this out: Keruna snapped a photo of this daycare center special in Kurashiki in southern Japan. It's an aluminum-framed stroller-bako*/wagon with big Bugaboo-style tires and wheels, with a handbrake, and light cloth side panels. No matcha cupholders, I'm afraid, but otherwise, this is a mighty fine-looking rig.
And dig the hats with the little flaps. I remember wearing one of those when I got my first pair of Vans.
As always, if anyone has any brand or make/model info on this rig, please chime in.
All Aboard! [keruna's photos on flickr]
* bako, pronounced bah-koh, means box. If it stands alone, without a conjunction/word preceding it, you use the original pronunciation, hako.