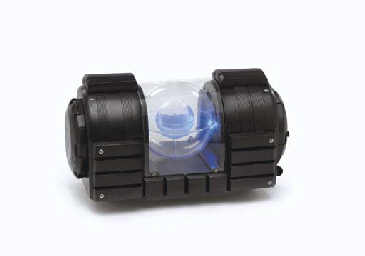 LOT 191: AUGMENT EMBRYO INCUBATOR MODULE, [est. $300-350]
If you didn't already know Paramount was throwing a massive, EVERYTHING MUST GO! auction of Star Trek props, costumes and memorabilia at Christie's this week [Oct. 5, 6 &7], you probably don't have the Trekky commitment required to win even the most seemingly obscure Romulan tchotchke. Serious fans and collectors are likely to bid right to the top of their home equity lines of credit, so I'm guessing Counsellor Troy will be sensing a great deal of disappointment among the impulse buyers in the crowd.
Still, if any Trek-obsessed dads are looking to score something for the kid--or for yourself--here's the Daddy Types Bidder's Guide

Lot 168: ARCHER'S CHILDHOOD ASTRONOMY BOOK
A hardcover children's astronomy book with custom-designed paper jacket, titled The Cosmos, A to Z, jacket is aged with a light spray of grey and beige paint, nameplate reads "From the Library of: Admiral Jonny Archer" -- featured in "Fusion" in Star Trek: Enterprise in which we learned that this book inspired young Jonathan Archer to become a space explorer.
This book jacket was designed by graphic artist Geoffrey Mandel. His text on the back cover of the book includes several Star Trek references: "The essential guide to space, the final frontier! Now you can explore strange new worlds Seek out new life and new civilizations Boldly go where no one has gone before!"[est. $200-300, sold for $720 (all sale prices include 20% buyer's premium)]

Lot 191: AUGMENT EMBRYO INCUBATOR MODULE
A prop "incubator module" made of cast resin and plastic, with a clear plastic holding cell with a prop human embryo, with battery-powered blue light -- 8in. long -- featured in "The Augments" in Star Trek: Enterprise as one of the genetically-engineered "superhuman" embryos from the Eugenics Wars.
The "Augments" were genetically-engineered humans, created during the time of Earth's terrible Eugenics Wars. The tyranical Khan Noonian Singh probably began life in an incubator module much like this one. [est. $300-350, sold for $2,400]

Lot 296: NAOMI WILDMAN'S ROCKING HORSE
A modern-style child's rocking horse with clear acrylic plastic rocker -- used as set dressing in Naomi Wildman's quarters on the Starship Voyager and seen in young Deanna Troi's room in a flashback scene in "Dark Page" in Star Trek: The Next Generation [est. $200-300, sold for $1,200]

Lot 298: NAOMI WILDMAN'S FLOTTER T. WATER DOLL
A blue doll with iridescent clothing and blue-painted foam latex head -- 24in. long -- made for Naomi Wildman in "Once Upon A Time" in Star Trek: Voyager.
In [that episode] we learned that little Naomi Wildman was fond of a series of children's stories set in the Forest of Forever. Characters represented the forces of Nature, and their adventures taught children about their interdependence. Flotter T. Water III represented the water cycle in Nature, and was one of Captain Janeway's favorite characters when she was a little girl. [est. $100-150, sold for $1,560]

Lot 328: BABY Q STARFLEET UNIFORMS
Two black and burgundy Starfleet uniform jumpsuits, each with grey undershirt, sized for an infant's wear, includes bag of loose, tiny Starfleet rank pips -- worn by Brett and Nolan as the Baby Q in "The Q and The Grey" in Star Trek: Voyager (4).
California law protects child actors by providing strict limits to the amount of time they can spend on camera every day. The younger the actor, the stricter the limits. For a very young character, two children are sometimes cast to ensure that enough time will be available for filming. [est. $300-500, sold for $1,140]

Lot 755 CAMP KHITOMER BANNERS
Six colorful nylon banners in various sizes, printed with Federation, Romulan, Klingon and Vulcan emblems -- used as set dressing in the Camp Khitomer scenes in Star Trek VI: The Undiscovered Country [ed note; The idea is that these would be sweet hanging on the walls of your Trekky nursery. Khitomer was the site of secret peace talks between the Klingons and Romulans. I had to look that up.] [est. $200-300, sold for $3,600]

Lot 774: STARSHIP EXCELSIOR BLANKET
One blue blanket silkscreened in light blue at the center with the Starfleet arrowhead emblem and the words USS Excelsior, NCC-2000 silkscreen imprint -- used in Excelsior crew quarters set at the beginning of Star Trek VI: The Undiscovered Country, when crew members are knocked out of bed by the energy wave. [est. $100-150, sold for $2,640]

Lot 775: U.S.S. ENTERPRISE BLANKETS
Three tan flannel blankets, each silkscreened with the Starship Enterprise arrowhead symbol and the words "U.S.S. Enterprise, NCC-1701A" in light blue ink -- made for Star Trek VI: The Undiscovered Country [est. $100-150, sold for $5,760]

Lot 776: TRIBBLES
Two "tribble" fur balls, made from fake fur, stuffed with foam rubber, one grey and black, the other white, dark grey, and brown, each -- 5in. diameter -- made for "Trials and Tribble-ations" in Star Trek: Deep Space Nine, and also used in the alien bazaar scene in "Rajiin" in Star Trek: Enterprise.
Tribbles were the lovably cute alien fur balls that couldn't possibly hurt anyone. That is, until Lieutenant Uhura brought just one of the furry creatures onto the Enterprise. The tribble soon had babies. Then the babies had babies. Before long, it seemed like they were taking over the ship. The script for "The Trouble With Tribbles" was the first professional script by noted science-fiction author David Gerrold. His tribbles became an instant fan favorite and have become synonymous with Star Trek. [ed. note: nice tidbit, but these Tribbles are not from the Gerrold episode.] [est. $800-1200, sold for $4,800]

And after you've bought for the kid, you can treat yourself to these groovy items:

Lot 977: FRIENDLY ANGEL COSTUME FROM "AND THE CHILDREN SHALL LEAD"
A multicolored gown with floral pattern -- worn by Melvin Belli as the Gorgon [sp, Gorgan], also known as the Friendly Angel, in "And the Children Shall Lead" in Star Trek: The Original Series. [ed. note: like approximately 80% of the original series, and everything else made in the 1960's, this episode is about children being seduced by idealistic promises and turned against their parents and other authority figures. Remember Grups?] [$4-6,000, sold for $3,120, a relative dud, especially considering the next lot, McCoy's space suit from "The Tholian Web" sold for a freakin' $144,000]

Lot 859: SPOCK'S HEADBAND
A strip of loose-weave linen cloth -- made for Leonard Nimoy as Spock in Star Trek IV: The Voyage Home Spock supposedly tore this strip of cloth from the inside of his Vulcan gown, then used it as a headband to conceal his pointy Vulcan ears. [ed. note: until the invention of the holodeck, ST4 was easily the most embarassing Star Trek production ever. Shot in 1980's San Francisco, it looks like an episode of CHIPS.] [est. $500-700, sold for $4,560]
Lot 674: RIKER'S "BOY TOY" COSTUME
A loose shirt of aqua blue chiffon woven with metallic threads, with a pair of corresponding mauve pants, with green strap decoration -- worn by Jonathan Frakes as Riker in "Angel One" in Star Trek: The Next Generation; with corresponding wardrobe tag (2)
Angel One was a planet on which men were relegated to second-class status, often serving as sex objects. William Riker wore this revealing outfit when "negotiating" with the beautiful - and authoritative - Beata, the leader of Angel One. [uh, what holodeck? This makes Spock's headband look like a Brooks Brothers suit.] [est. $500-700, sold for $1,800. unbelievable.]

Lot 664: DEANNA TROI'S STARFLEET MINI-DRESS
A black and blue-green first season-style Starfleet uniform spandex minidress, with split to the front, Starfleet communicator badge and lieutenant commander's collar pips, with Star Trek: The Next Generation label inside inscribed Marina -- worn by Marina Sirtis as Deanna Troi in "Encounter at Farpoint," the two-hour pilot movie for Star Trek: The Next Generation; with corresponding wardrobe tag
Marina Sirtis wore this costume only in the first episode of Star Trek: The Next Generation. The miniskirt-style of Star Trek: The Next Generation uniforms could occasionally be glimpsed thereafter on background players, but alas, the miniskirt fell into disuse.
[ed. note: there's a whole bunch of other Counsellor Troi costumes, but I'll go out on a limb and guess that if you really get your groove on from Troi's outfits, it's unlikely you have reproduced yet. Watch Patrick Stewart's cameo on Ricky Gervais's Extras for details.] [est. $2-3,000, sold for $4,800]
Meanwhile, buying Seven of Nine's skin-tight Starfleet jumpsuit with underwire support [Lot 345, est. $1500-2500, sold for $8,400] is only asking for trouble.
40 years of Star Trek: The Collection [christies.com]
Also, the Daddy Types Star Trek Auction Bidder's Guide photoset [flickr]
Previously: Orange County's largest Star Trek bear collection; Star Trek baby names; remember Grups?