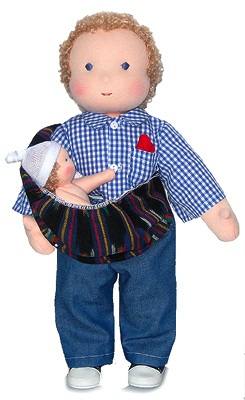 Waldorf dolls--if you don't know, and I didn't--are handmade from natural materials [cotton knit over wool]. The name comes from their association with the Waldorf "whole child" educational philosophy of Rudolf Steiner. [Waldorf also gave name to the Eurythmics and a cranky muppet, in case you're keeping score at home.] If the dolls are not homemade, they're often handmade in little mom co-ops or as little cottage industries.
Like the Precious Moments figurines and Cabbage Patch Kids who ripped them off--and like the children they're meant to inspire--Waldorf Dolls come in approximately one hundred million variations. One new one, from Joy's Waldorf Dolls, is this Father & Baby doll.
By choosing from a range of eye, hair, and skin tones, you can configure your Baby-Daddy combo to match almost any family setup imaginable [there's even a dredlock option].
But a few things remain constant: plaid shirt, boxers, "mirror[s] the love and care you give your children and reflect[s] attachment parenting," and my favorite, "an authentic Guatemalen [sp] fabric doll sling." Could it get any more natural than that?
Father & Baby custom Waldorf Doll set, 4-6 wk delivery, $149 [joyswaldorfdolls.com via dt reader marty]