A DT reader with a sharp eye and a blurry phonecam [stop fighting it, buddy, just get the upgrade] sent in this photo of a Bugaboo covered in bears:
...at least they looked like bears. I was in a cab on Houston St and couldn't exactly stop and ask her to pose...the fabric looked shiny, like nylon...definitely not the normal Frog fabric...
First off, the proper procedure in such a case as this is to shout suddenly, "Stop the car!!" And throw open the door while the cab's still rolling. And I'm sure that if you jump in front of this woman and start snapping pictures of her stroller--please be considerate of the baby, of course--she'll be frozen in place, and you'll be able to get off at least 3-4 clear shots and jump back into the cab before she even knows what happened.
Meanwhile, what is up with a bear-print fabric Bugaboo? Anyone? Does this mean there's a pattern for making your own Bugaboo seat covers and canopies floating around? [C-A-L-L M-E]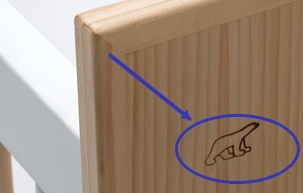 Or is this a secret David Netto edition of the Bugaboo By? And if it is, does this mean that white Smurfaboo is being retired? Because let's face it, it's been a couple of years now...
See, Netto's got a polar bear logo on some products, like the Cub Sleeper Crib, $525 for pre-order at egiggle [egiggle.com]
update: as several people mentioned below, this is most likely an aftermarket Bugaboo cover. There are frequently Bugaboo seat covers with and without canopies sold on eBay from folks like Mamala, who charges around $200 for the set.