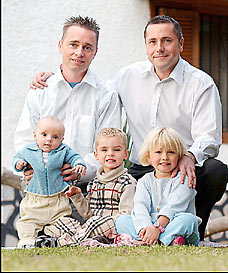 I felt bad that I wasn't coming across many things to post for the 'gay dads' category lately, but now I realize it was because I wasn't surfing Gaydar, the British gay personals site.
The Daily Mail was, though, and they helpfully reported on the uproar [the tally so far: seven commenters, two rent-a-quote experts--where will it stop??] when some gay dads--two dads, and the three kids [the first surrogate kids in the UK, apparently.]--in rural Essex used Gaydar to meet other gay families--by posting a picture of their own family online.
See, as Michele Elliott, of Kidscape, explains to the paper,
"These men are being very foolish. Whether you are gay, or heterosexual, you should not put children's pictures on the web. This is asking for trouble...
Ahh, so that's what this furor's all about. [image credit: The Daily Mail website]
In other important news, the twins are named Saffron and Aspen; the youngest is Orlando. Also, now we finally know who's been buying Burberry baby clothes.
Anger as gay fathers post pictures of their children on dating site [dailymail.co.uk via towleroad]