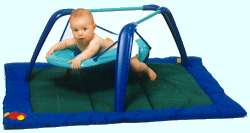 he's saying "simply ingenious," btw
I feel your pain--really, I do--but I've usually got next-to-nothing to tell you about where to find non-heinous-looking swings and exersaucer-like playgear. No matter how much bacon they ply me with, I have to say what I see: from a design evolution standpoint most of the stuff in this category is still in the primordial ooze stage.
Now the Wingbo and its wheeled counterpart, the Babybo, may not have crawled up onto land aesthetically, but they do seem to represent at least a performance-evolutionary leap forward.
These German rigs are ergonomically designed to give a kid some quality tummy time--and by "quality," they mean while suspended in space or while scooting around the floor.
Wingbo is a playmat, playrig with a suspended, semi-rigid harness that supports a kid while he's lying on his stomach. The kid rides it like a crotch rocket motorcycle, feet on the ground so he can fly/steer/move/not freak out.
Babybo, meanwhile, appears to be a contoured skateboard with a strap or something, to enable a noncrawler to move around a bit. The giant safety tongue in front extends far enough and if the German version of the CPSC, the TUV's safety-uber alles certification is enough for you, these rigs ready for your grey market smuggling.
Where to get them, and how much they are? the website's a bit mysterious on those points. It does have a remarkable animated graphic, though. [wingbo.de via dt reader sara]
Previously: The Evolution of the Evenflo Exersaucer