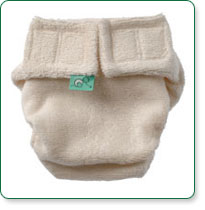 I hear from the hemp folks that cotton is an extremely resource-intensive crop to grow. Organic cotton's better, I'm sure, but I really have no idea. It's all angels on the head of a pin to me, the guy who only just switched to fluorescents this summer.
What I DO know is that by the time the kid's in college, everything will be made of bamboo. She'll be typing on a bamboo computer as she pedals her bamboo bike along a bamboo concrete sidewalk to her bamboo dorm.
There'll be so much bamboo, she'll wince with embarassment whenever her old man launches into his story about how, back in the day, when I first heard about bamboo fiber cloth diapers, I was so amazed, I had to write about it on my blog right away. In the middle of the night. On a weekend.
And those bamboo fiber diapers? They're called Bamboozles, and they're from an outfit in Glasgow called Totsbots. Besides being renewable, of course, bamboo fiber is touted as being super soft and 60% more absorbent than cotton [q: how about wool? don't they make diapers or liners out of wool, too?].
£9.00 a pop before you ship them seems a little pricey, but you can take the edge off by trying to get your VAT back. And then use those extra pounds to pay for your carbon emissions offsetting.
Bamboozles Bamboo Fiber Cloth Diapers, £9.00 [totsbots.com]
Previously: Carbon-neutral diapers now available in cloth, too
update: See, bamboo is unstoppable. There are at least three other bamboo diaper sources mentioned in the comments, including two in the US--at least one of which, Snuggle Hugs, are hand-sewn by a mom.