A few weeks back, we got the first hints of the Swedish toymaker BRIO's foray into modern children's furniture. Their molded wood-and-foam Grow High Chair has a bit of the Eames and a bit of the Verner Panton going on, and it looks pretty good.
Now, finally, we get to see the other pieces: cribs, changing tables, and play furniture. And let me tell you, I ache. It's almost exactly the kind of elemental, no-nonsense, crib-in-the-dictionary kind of furniture I wish had been available when the kid was born. [hold that thought.]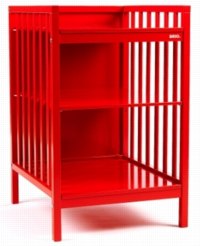 Brio introduced two styles of cribs, both Euro-low to the ground. I like the starker, squarer Colour crib [above], which has a fixed rail and only two mattress positions more than the Moon Lux. And I like the Colour changing table best, hands down, for the same reason. It's like Stickley reinterpreted by Donald Judd.
The high chair: kind of flashy, but a known quantity now, and besides, flashy high chairs are popping up all over in the couple of years since the Mozzee Nest appeared [there's the Boon high chair, the Fleurville Calla, who am I forgetting?] Anyway, and the painted, molded wood play tables and stools are fine and plain, nothing too eye-popping, though.
Brio's real challenge, it seems, is the customers', too: where is this stuff going to be sold? I tried locating a retailer through the still-under-development website and came up empty. No mention of prices, either. The Brio Moon Lux crib is on sale in Sweden for 1595 SEK, or about US$220. [That's within firing range of another large Swedish company's cribs.] It's gotta be a stretch for a toy store used to Brio's little trains and cars to start carrying giant furniture, too.
But there's still time to wait. My guess is they just launched the line at the big Kind + Jugend show in Cologne last week, and so this stuff won't be available for smuggling into the US until early 2007 at the earliest. Get your VAT refund forms ready.
Brio Furniture To Be [ via theapt.blogs.com]
Previously: Vaya con Brio, my darling. Awesome Brio Grow High Chair
[update: after a couple of comments by folks fluent in Swedish design, the Brio Colour and the Ikea Gulliver cribs get a side-by-side comparison. take a look]