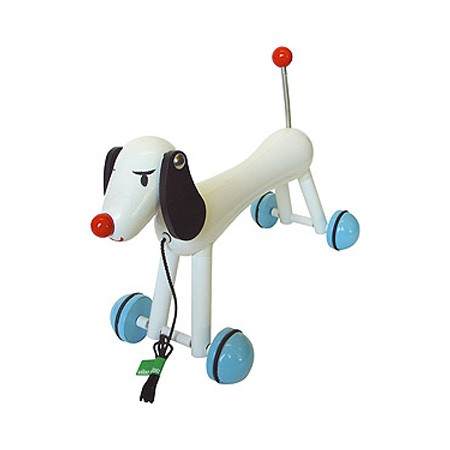 Japanese artist Yoshitomo Nara is well known for his paintings of slightly malevolent-looking children. Possibly evil, usually cute, definitely expensive.
One of his other recurring themes, though, is puppies. Non-evil puppies. It's not a stretch at all, then, to see Nara has produced an actual toy. In collaboration with Vilac, the French manufacturer of Alexander Calder's recently reissued toys, Nara has introduced a really sweet-looking wooden pulltoy called "My Sweet Dog."
It's about a foot high, has a really high level of finish, and comes in a really sweet box, too. If you want one, but can't imagine spending $87.50 yourself, maybe you need to befriend more art collectors; it really is the perfect gift.
My Sweet Dog by Yoshitomo Nara is $87.50 at Unica [unicahome via dt reader andy]
MSD on Vilac's site [vilac.com]
Previously: Calder toys, Nara bodysuits made from t-shirts,