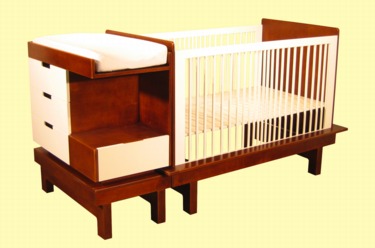 I've still got tons of stuff to post from the ABC Kids Expo, including this stunning, new crib/changing table combo from Argington. These Brooklynites have been on a roll lately, cranking out some really great designs, with solid quality, and at some impressively reasonable prices [and now that they've offshored production, they may actually even make enough money at those to stay in business for a while.]
Anyway, the spotlight in Las Vegas was on the crib, called the Sahara, which has fixed side rails in white and a choice of five stain finishes on the wood. It's a nice, straightforward platform bed design [the mattress height is adjustable], but the real beauty appears when it's teamed up with the table.
The Delphi changing table is also a very nice, modern design, like a sweet mid-century console. But the bases of the two pieces are at precisely the right heights for them to slide together. It's so easy. Each piece does fine on its own, but the interlocking aspect is so simple and seemingly offhand--almost obvious, really--that they really look best together.
Available starting around February, the Sahara crib is just $675, while the Delphi changing table is $925. These are heavy beasts, too, by the way; lift with your knees.

Check the Argington site for retailers and availability. [argington.com]