[02/08 update: check the comments here; unfortunately, a number of people over an extended period of time have complained about problems or delays completing their orders from Reckon. Lead time on orders not-in-stock have stated leadtimes of up to 3 months. Just so you know.]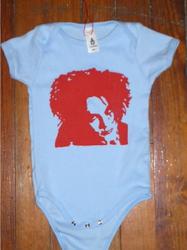 I came for the Wittgenstein [which turns out to be on reserve], but I stayed for the Nabokov and the Robert Smith [who apparently took time off from destroying Mecha-Streisand to pose for this hand-screened, Che-style portrait.]
Reckon Wordwide [as in "to your mother," not "we are the"] is Austin poet Chris Weige's limited-edition, handmade apparel and gear business, and it's chock full of beautiful, thought-provoking, off-the-wall, and unabashedly literate designs, which you can have printed on American Apparel bodysuits, kid's t-shirts, or--yes, don't worry--even adult t-shirts.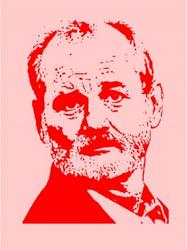 I mean, anyone can put their kid in Che. Meanwhile, your kid could be rockin' in Christopher Walken, Stevie Wonder, Kerouac's typewriter, Haruki Murakami--or even that Che of our golfing generation, Mister Bill Murray.
Reckon's Etsy store has stuff for $19 closed down, while ReckonWordwide.com lists them for $21. Let the intensity of your desire to support poetry guide your path.