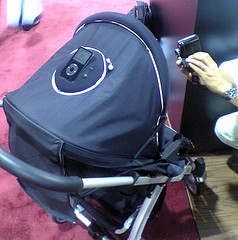 On the first day of ABC Kids, Rock Star Baby, the stroller company fronted by Bon Jovi drummer Tico Torres, and backed by German stroller giant Hauck, had a tantalizing tip: an officially licensed iPod stroller, complete with a dock, speakers, and controls, and decked out in iPod logos and concert-ready white leather.
And so it was that the stroller media was stalking the boys from Jersey all day Monday, waiting for the red carpet scrum.
What arrived was simultaneously more and less than promised, a gap attributed to some garbled Google-translated German emails between RSBHQ and the Mutterfaktorie.
There was an all-black i'Coo stroller [also made by Hauck] with two prototype canopies--one indeed in white leather--with form-fitting, CD player-sized docking stations with an integrated jack and volume control buttons mounted on top. Inside were two speakers. iPod and iPod logos were not included, so one of the assembled media hordes--Steve from Coochicoos--went to grab an iPod from the car while Robert from Coochicoos and I snapped away [that's Robert's videotaping hand in the shot, btw.]
Then we all marvelled at the sight we presented to the world--three grown men, plus an equal number of incredulous onlookers, huddled around a stroller with a non-working iPod jack, photographing the hell out of it--while crying a little bit on the inside.
Rock Star's folks say the canopy will probably be available as an option on a new model expected to launch early in 2007. Which is stroller industry talk for "someday."
Rock Star Baby's iPod I'Coo stroller canopy [flickr]
Rock Star Baby strollers on DT
The I'Coo Pico 4, as seen in 2004
Buy a 60Gb Video iPod for $299 at Amazon, or just send me money, it's 5% of one, $15 of another to me. [amazon]
[Update: Terry's comment below about speaker&jack-equipped Jeep strollers reminded me that Kolcraft came out with a $50 mp3-ready umbrella last winter called the iBaby, too. Nothing new under the sun canopy, it seems.]