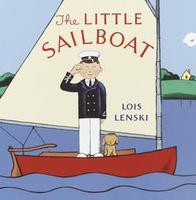 Maybe I wouldn't have been so conscious of the hyper-WASPy presumptuousness of Lois Lenski's The Little Sailboat if I hadn't been reading Policeman Small so often.
But when we went to the library today, and the kid plopped down a stack of tiny little Lenski books [they really are kinda cute, all small and what not], I couldn't help but be reminded that while Captain Small is out sailing, tacking, fishing and swimming all day, Policeman Small is on his feet all day, pulling a twelve-hour shift with only 30 minutes for lunch.
That said, it felt really important and practical--in the same way that The Preppy Handbook is still extremely practical, even after all these years--to be teaching the kid the difference between bow and stern, and that you don't "park a boat by tying a rope," you "make fast the mooring." And plus, it's always good for kids to develop an early and proper disdain for those undesireable cads in their speedboats.
Buy Lois Lenski's The Little Sailboat, $9.20 on Amazon [amazon]