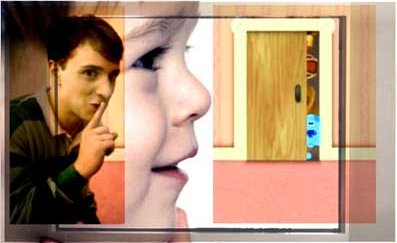 Researchers at Vanderbilt University have shown that by the age of two, most kids have already developed important life skills like webcamming, but are just beginning to learn how to yell at a TV screen.
The study sat kids in front of two shows: one was a tape of someone asking to find where Piglet was hidden, the other was a live 2-way feed. Response to the live feed was equivalent to actual parental interaction [or, are researchers call it, "IRL" and "f2f."]
About a third of the 2-yo's were able to treat the faux-interactive taped version as a "social partner," something that 3-5yo Blues Clues viewers have already demonstrated to researchers. Very advanced.
There is apparently something called the "video deficit" that must be overcome so that kids can use information from a TV as effectively as from other sources. This information is vital for functioning in today's ever-changing, increasingly complex society, especially for things like defining one's identity and shopping.
Another message from researchers: "Steve, you call yourself an indie-rocker now? You can check out any time you want, but you can never leave. It's all on tape, baby."

When Toddlers Turn on the TV and Actually Learn [nyt]
Young Children's Use of Video as a Source of Socially Relevant Information [child dev, may/jun 06 abstract]
75,000,000 Toddlers Can't Be Wrong [themorningnews.org]