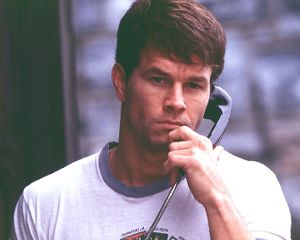 When we went to the hospital Sunday night before the kid was born, I actually brought my laptop--and a speakerphone. See, they had just released all 5,200 designs for the WTC Memorial competition, and I was maybe gonna be interviewing Mark Wahlberg with the New York Times about his entry. The room was supposed to be cell-phone-free, so I took the phone from the kitchen, just in case. In the end, even though I had backchannel confirmation that it was his design, Wahlberg's people were blowing smoke and denying he had anything to do with it, so the interview never happened.
My own experience with hauling in useless household appliances may explain why I haven't brought up the "what do you take to the hospital?" question too often around here. But we gotta tell DT reader Matt something, right? "Any recommendations of things to bring to the hospital, both for me and the new mommy-to-be? Anything you wish you had but forgot?"
The one thing I remember worrying about not having: a tube sock with tennis balls in it, for doing deep lower back massage and compresses during labor. Our childbirth class instructor was very particular about that, but with the rackets in storage, there wasn't a tennis ball in the house. [My wife's epidural went in so fast after we got there (correction: four hours after, which apparently flew by for absolutely no one but me -ed.), it turned out not to matter. And apparently they discourage you from vigorously massaging the area where the needle goes into the spine. Go figure.]
The other thing that we were glad to have brought: singles. Unless you know your hospital has a 24-hr cafe or shop, you may be visiting a vending machine a lot, and you'll want vending machine-friendly money.
Other staples: music. Is that CD's? Are laptop speakers enough? iPod/Tivoli? Old skool boombox? We were supposed to pre-approve anything that required plugging in, but in the end, no one cared.
What other things should be on the list?