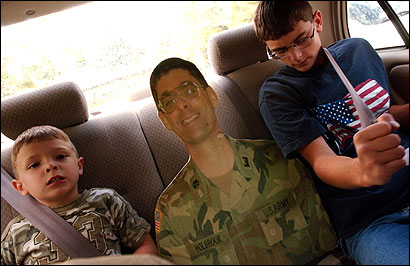 Wow. I-- wow.
Soldiers in Maine's National Guard who've been deployed to Iraq keep in regular, almost constant touch with their families through email, satellite phones, and even video conferencing.
On top of that, their families receive life-sized photo cutouts on foamcore, just to keep around the house. They're called "Flat Daddies" and "Flat Mommies," and they're a huge success:
The Flat Daddies ride in cars, sit at the dinner table, visit the dentist, and even are brought to confession, according to their significant others on the home front.

"I prop him up in a chair, or sometimes put him on the couch and cover him up with a blanket," said Kay Judkins of Caribou, whose husband, Jim, is a minesweeper mechanic in Afghanistan. "The cat will curl up on the blanket, and it looks kind of weird. I've tricked several people by that. They think he's home again."
When the kid was 5 months old, my wife first went to Japan a couple of weeks ahead of the kid and I. We [especially she] worried that the kid might not recognize her after a while, so we recorded a little video of them reading
My First Book of Sushi
together. I played it for the kid every day, and it seemed to work, although we had to stop the tape before take 2, when the video kid started fidgeting and crying; watching herself cry inevitably made the kid cry. Go figure.
Anyway, I think this is an incredible, if admittedly bizarre solution for any parent who has to be away from his kid for a prolonged period. And besides, you get to use the HOV lane, too.
Guard families cope in two dimensions [boston.com via boingboing]
Make your own life-sized photo cutout. You could do waist-up for around $100. Full-body is closer to $200. [try here or here, or here, via yahoo]