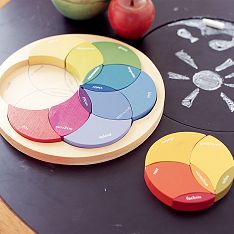 Wow, now I know who's been bidding against me for the vintage Creative Playthings stuff on eBay. Pottery Barn Kids has launched Learning Toys, a collection of really simple, classic-looking wooden toys designed and color-coded for age-appropriate play.
There's a set of number blocks [which are similar to, but better looking than, some old Hello Kitty blocks I got the kid a while back], and there's a nice triangle tray puzzle, too.
But like Jenna at Babygadget, I have to vote for the Color Wheel puzzle as most near-awesome toy in the bunch. The only real drawback, design-wise, is the inclusion of little white text captions on all the color blocks. Stick to your design guns and be confident knowing there's plenty of time for the kid to learn how to spell "magenta."
Maybe someone who's bought these can tell us if the letters scratch off. And speaking of inspiration, I wonder what Eric Pfeiffer and Offi think of that chalkboard playtable with the cutout in the middle that PBK used in the photoshoot.

Color Wheel, from the PBK Learning Toys collection, $29 [potterybarnkids.com via babygadget]