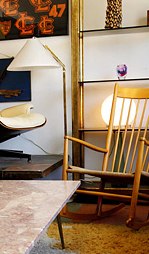 Used to be, the beauty of eBay was that hard-to-price stuff like vintage furniture would end up selling for wholesale. Remember a few weeks back, when I posted some black 1970 Hans Wegner rocker from eBay with a very retail-sounding "buy it now!" price of like $850? [If you don't, don't worry. It can still be yours, now for $833, aka $764.95 + $67.50 shipping.]
Well, we've come full circle. Now the wholesale prices have moved from the net to small stores in hipster enclaves in LA. The NY Times has a plug for a Silver Lake store called From The Hip [hipster address book info here] that "tries to sell at wholesale prices." Example: they've got a natural-finish Wegner rocker "from the 1960's" for $350.
Of course, since the chair was just featured in the NY freakin' Times, and From The Hip doesn't have a "buy it now!" feature on their answering machine, you may have to use your best "we've got two tickets to see Usher, just be caller number 97!" speed redialling skills to get it. Phone lines are...not open, dude. It's 5:30AM.