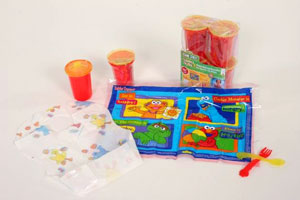 Forgot about this, but unfortunately for the marketing director at Table Toppers, I was just reminded that they had handed out a free sample of their new product, Toppers-To-Go, to the visiting journalist(s) at JPMA. It's exactly this kind of extravagant swag that gets me up in the morning, and since we had loved ourselves some Table Toppers in our day, I gladly took it.
Toppers-To-Go is billed as a "disposable feeding kit," and it won an Innovation Award at the JPMA expo. It's a Table Topper, a disposable bib, and a plastic fork and spoon, fitted into a "disposable sippy cup with a no-drip spout."
The problem with giving stuff is that people might actually try it, and as the kid drank from the no-drip spout in the car, the mega-drip rim kicked in, and it was a freakin' mess. Five minutes out the door from DC to NYC, now with no milk and only a spare cup in the trunk.
When I first brought the kit home, my wife and I both decided that it seemed too wasteful to take and throw all that stuff away--we find that we use our First Years "disposable" cups for months on end--but that if it was for sale at a museum cafeteria or a truck stop, or someplace where you hadn't prepared to eat, it'd be great.
Great, of course, except for the mega-drip rim.

Table Toppers and such [tabletopper.com]