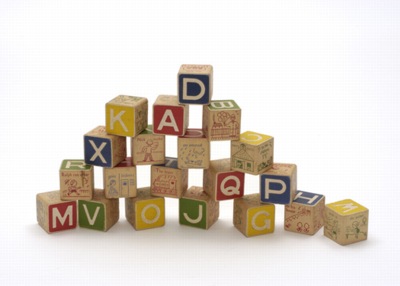 The kid's got a thing at the moment for Lois Lenski's book, Policeman Small, and so I toggle between admiration of her clean, simple artwork and annoyance at the guy's apparently non-union job [a 12hour shift with only 30 minutes for lunch?]. Actually, I just noticed that there isn't a single non-white face walking down any street, either, but maybe that's how it was in the 40's. In Florida. And North Carolina. Anyway...
UNC-Greensboro has Lenski's archive, a gift of her son Steven Covey [not the dayplanner one], which includes some toys, too. There's a wooden Noah's ark Lenski's husband Arthur Covey made for their grandson, and there are a couple of little Lenski-designed trains that never made it into production.
But the best, I think, are these alphabet blocks, which really show off Lenski's clean lines--and that sweet moderne-ist typeface rocks. They were commercially manufactured at some point, but there's no date or company given. Just something to add to the hunt list.
I also love that someone--a member of Archivist's Local 139, no doubt--has the job of documenting the rhymes and letter combinations on each block.
Lois Lenski Collection [uncg.edu]
Update: Well, that took about two minutes. This motley lot of blocks on eBay looks like it includes at least a couple of Lenskis.