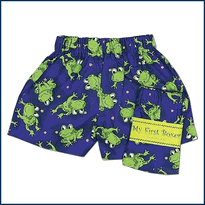 Before I get your hopes up, I'd better rephrase that.
Although they're best known for their theme-y baby towel sets and costumes, Mullins Square also makes diaper covers called My First Boxer Shorts that look like--you guessed it--boxer shorts. They're for sale at MyMamaBear.com, where they're only marketed for boys ["Adorable first boxer shorts for your little man! Now he's just like Daddy!"} whose dads don't go commando or wear tighty whities.
Still, I'm sure if those boys are ready to take that big step in their relationships, their little girlfriends can borrow them.
As for my first boxers, I eBay'ed them all years ago [hey, b-school doesn't pay for itself, you know.]
My First Boxers are available in a bunch of silly patterns, plus camo. They're $15. [mymamabear.com via babygadget]