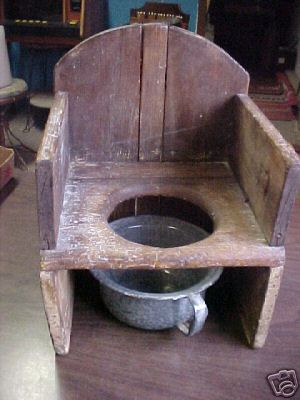 Toilet training turns out to be like diaper changing, only more so: whenever you go out, you become hyper-aware of where the nearest toilets are.
But I confess, even with my heightened potty sense, I never would've thought to search eBay for an "old crapper," and yet, here one is.
The seller of this "antique potty chair" ["antique?" I'll grant him "vintage," but "antique"?] says it "would make a nice planter." I don't know nothin' about that, but judging from the patina on both the chair and the pot [it's called porcelain, but it looks like enameled metal to me. better ask], it's definitely served its original purpose.
With a starting bid of $39 [+$16.85 shipping], you probably don't need to worry about missing the end of the auction on Wed.; I'm betting it'll be available for your best offer on Thursday.
antique potty chair with porcelain pot,old crapper [ebay via dt reader tina]