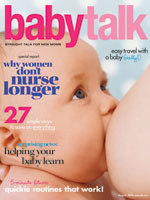 When are the nursing nazis at BabyTalk Magazine going to get the message? New parents have enough stress in their life without having to worry that their newborn infant might be inadvertently exposed to a naked, engorged breast in the waiting rooms of our nation's OB/GYN and pediatricians' offices, no less.
So is there any mystery that a national outrage is a-brewing?:
"I was SHOCKED to see a giant breast on the cover of your magazine," one person wrote. "I immediately turned the magazine face down," wrote another. "Gross," said a third.
Reaction to 'breast-feeding' cover reflects larger debate on public nursing
[kcbs/ap via
bloggingbaby
]