I guess I had my head in the sand a decade or more ago, but according to the NY Times, skulls are the new Precious Moments:
Reminiscent of the vogue for angels a decade or more ago 'Äî remember how the little winged creatures were everywhere? 'Äî the skull neatly encapsulates a cultural moment in terms both precise and vague.
The only problem: if you can't get yourself to a mall, the only baby-related skull gear mentioned in the article is this Misfits one-piece, which is $16 from the Misfits' Fiend Store [sic].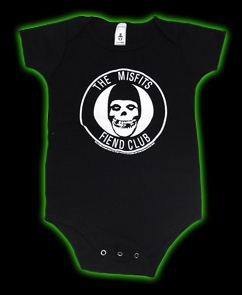 If you can get yourself to a Hot Topic, though, you can find a whole slew of skull gear in their "Kids Having Kids" department. I mean, if I were a high school girl, I'd want to get knocked up just so I could dress my kid in this cute Blest skull & bones bodysuit. ITSSOOOCUTE!!!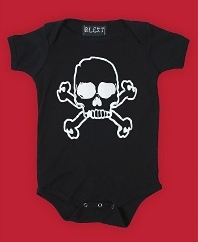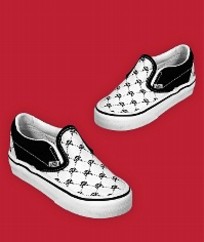 The Heyday Of The Dead
[nyt]
Misfits Fiend Club bodysuit, $16
[misfits.com]
Skull-covered clothes for babies
and
toddlers
at Hot Topic [hottopic.com]
Unfortunately, the skull-printed Vans are only available in limited sizes.
[hottopic.com]