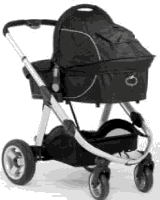 Besides the fact that it will never be sold in the US with a name like iCandy Apple--and I'm surprised the Beatles and/or Apple haven't gone after them already, never mind the Bugaboo folks--I don't know much about this UK stroller.
iCandy appears to be a premium brand created by Little Shield, an otherwise unassuming, third-generation, family-owned British baby gear company who likes to do things the old-fashioned way. Like making you send the brougham down to the dry goods outfitter to collect your iCandy--or even to find out the price; they don't allow their products to be sold online, and they make you call even to find out the stockists. Needless to say, there's almost no product info or reviews out there, either, beyond the chirpy catalogue copy.
So if anyone has any firsthand experience shopping for or using an iCandy Apple pushchair/stroller, by all means, please share. Otherwise, here's what catches my eye:

The style is nice enough, but then, it's meant to look like a Bugaboo. [One DT reader has said they were pitched the iCandy as a "Bugaboo alternative which costs 100 pounds less."

That'd put the Apple at around 400 pounds, well above a Quinny Buzz (which goes for 330, but can be found for 270), and a little more than a Phil & Ted's (370). [Apparently, the UK is a whole other country, with its own currency and stroller safety regs, which makes prices crazy high. And which drives 5-10 Brits to email me each week asking if I know any US retailers who'll ship them a Bug. (No.)]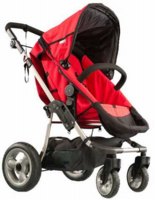 But if we're going to start down the lookalike road, how about putting an Apple next to the First Wheels City Elite [left, red], which itself looks like the i'Coo/Hauck Infinity/Rock Star Baby stroller, and which sells for under 200 pounds?

What the iCandy Apple loses in price, it makes up in volume. With the stroller seat, the Apple weighs in at 13.6kg, about 30 lbs. I hope there are no stairs between where you are and where you're going. Both the Cameleon and the Phil& Ted's are 9kg, or 20lbs. Still, it's lighter than a Mt Buggy Urban, which is 35lbs.

One unique feature of the iCandy Apple is its 3- or 4-wheel conversion option. From the look of it, the front wheels fold toward each other and lock for "3 wheel jogger mode." Please correct me, real joggers, but I've always thought that these small, solid front tire rigs are just not good for actual running.

Other things like Maxi-Cosi carseat adapters, a carrycot option, and front/back-facing seat all seem familiar. The round Apple logo on the footmuff looks familiar, too, especially at a distance.

Two "Internet" sites? Poppycock, just change the colour a trifle! iCandy UK site, Little Shield site [icandyuk.com, littleshield.co.uk]
Baby Boom 2000--no name change yet!--has boilerplate on the iCandy Apple [babyboom2000.co.uk]