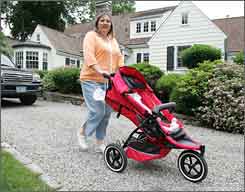 Well, the crisis in childcare continues apace. USA Today reports that even some CEO's are feeling the pinch as the cost of quality childcare spirals out of control.
Seems that nanny agencies who specialize in placing background-checked, multilingual nannies with college degrees in early childhood development and years of experience are commanding as much as $100,000/year plus benefits. Back in the day, such nannies only made $60,000/year. The pain is felt by CEO's right in their wallets, as the percentage of their average annual income they're forced to pay for childcare almost doubled from 0.05% to 0.09%.
When are the fatcats in Washington going to stop lining their own pockets and do something about this shameful injustice? How about tax credits for any childcare expenses over $50,000/year? CEO's deserve no less. And the hedge fund guys, too. And the lawyers. And the regular, old I-bankers. And private equity folks. And the screenwriters. But not the TV people, no way.
CEOs shell out nearly 6 figures to secure the perfect nanny [usatoday via wash post]
"Bright side"?? Wake up and smell the coffee your Guatemalan housekeeper just brewed before taking the kids to swim camp, Leslie Morgan Steiner! [warning: 10,000 angry comments alert] $100K Nannies [washpost via tmn]