When the kid goes to Grammy's house, she heads straight for the toy room under the stairs like all the older cousins--and plays non-stop with the old Fisher-Price Little People. You know, the little choking hazard ones. They're not like the ones I played with as a kid; they are the ones I played with as a kid, and my brothers and sisters, too.
Anyway, since no one these days would ever let his kid play with these classic toys, there's really no sense in even mentioning them. Or to point out that they vary in price depending on the condition, the completeness of a set, and the brightness of the lithograph/decals. Or that sets with original boxes command a hefty premium: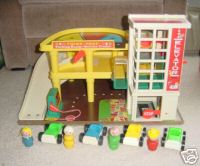 Nope, no need to mention the Fisher-Price parking garage, which has that elevator with the bell, and that turntable and exit ramp, which goes for $20-50 (including shipping), and up to $80 w/box.
And definitely no need to mention the Fisher-Price farm, which makes that "moo" sound when you open the door, and where you store everything in that silo. I bet those fences are considered dangerous somehow, too.
Don't get one of these Fisher-Price houses near your kid, either. If they don't choke on the little dog, they'll drive you crazy with the doorbell. So why spend $40 on it now?
And forget about this giant Sesame Street set, too; spend $60+ and even if you manage to explain who Mr. Hooper is, the kid'll still be wondering why there's no Elmo. [Waitaminnit, Elmo-free Sesame Street? I'd pay double for that.]
All that said, you could do worse than to start your budding turntablist off with one of these: a record player-like music box. [Hey, two obsolete sound technologies in one!]