<!form method="get" action="http://dt-go.com/cgi-bin/mt/mt-search.cgi"> <!input type="hidden" name="IncludeBlogs" value="3" /> <!input type="hidden" name="Template" value="daddy" /> <!input id="search" name="search" style="width: 270px; height: 15px;" /> <!input type="image" src="http://daddytypes.com/search.gif" height="18" width="159" border="0"> <!/form><!br />
July 1, 2006
Larva-Sized Chair From Hivemindesign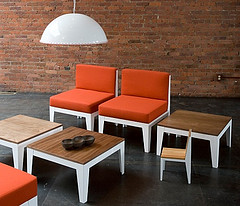 design*sponge posted some photos of the latest furniture pieces from hivemindesign.
These side tables and chairs look like variations on HMD's chair-4, which is made of folded powder-coated steel with either walnut or upholstery. But the bonus--and the reason, obviously, for posting it here--is the little child-sized chair in the picture.
So far there's no mention of it on the hivemind site; I'll update with whatever they get back to me with.
hivemindesign [hivemindesign.com]
see more--and bigger--at design*sponge's flickr photostream [flickr]
posted July 1, 2006 9:17 AM | add to del.icio.us | digg this
<!something is wrong with my adserver, so until I fix it, no ads>