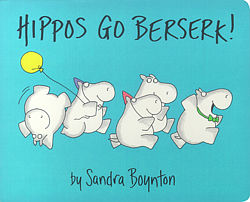 Title: Hippos Go Berserk
Author/Illustrator: Sandra Boynton
Reviewed by: Danielle

"One hippo, all alone, calls two hippos on the phone..."

Simple premise - Hippo is bored at home alone, wants to party. Makes a couple of calls.... ends up the hippos all go berserk then naff off home leaving him on his own again.

My daughter who's just turned 1 adores it, mainly due to the build up before the hippo's go berserk, rather that the anti-climax of them all leaving.
[Note: the DVD version, Hippos Gone Berserk: Spring Break, contains a lot of material which may not be suitable for young children. -ed.]