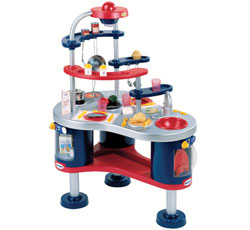 You thought those books were crazy, these toy prices are INSANE!!!
MoMA's online store is having a toy sale, and this steel and plastic [eh] concept kitchen from Groupe Berchet is gender neutral, has a bunch of battery operated features like a fan sound and a task light, and comes with a whole slew of pots and pans and stuff. If that's not enough, it was made in France.
It was originally $165, but now it's less than half price, $80. Museum members even get 10% off that, $72.
Metal Concept Kitchen, $79.95 [momastore.com via dt reader christy]
Also on sale: Takashi Murakami plushtoys, orig. $65, now $40; and the Good Wood Gang by Friends With You, was $35, now $20. There are several Naef blocks, too, but they're only like 10% off.