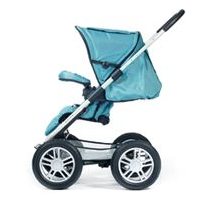 If you thought that Mutsy strollers were reserved solely for future Scandinavian kings to push around on Spanish beaches, think again. The stroller that Haakon Crown Prince of Norway made famous [around here anyway, never mind that Mutsy's been in business almost as long as Norway's even had a king] is coming to American beaches sometime this year.
Here's what Mutsy reps told a DT reader today who asked about US availability:
From: Carlo Verre [XXXXXXXX@mutsy.nl]
Sent: Thursday, June 22, 2006
To: A DT reader who's proactive about managing his vanity Google search results
Subject: RE: A message from Mutsy.com

We are planning to introduce Mutsy before the end of this year, the exact
date will be published on our website.
Kind regards,
Carlo Verre
On a totally unrelated topic, the exact date of the
ABC Kids Expo
in Las Vegas is Sept 10-14.
Previously: Prince Who of Wha? Revisit Mutsy Week on daddytypes