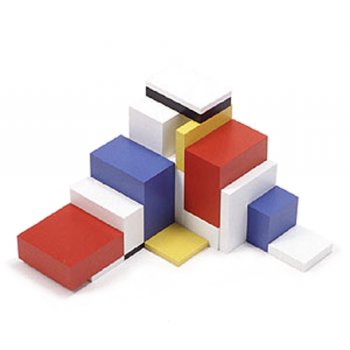 Wow. I finally started following up on some of the companies I'd seen mentioned in the latest issue of Baby Mammoth, the dad-friendly but advertiser-challenged baby magazine from Japan. One company they featured about ten times: toys by Naef, the Swiss company founded back in the mid-20th century by designer Kurt Naef. Naef is known for abstract, sculptural, and beautifully hand-crafted wood toys which also happen to be made from sustainably harvested forests and non-toxic finishes.
This design by Jo Niemeyer, called Modulon, totally blew me away. It's part of what Naef calls its Bauhaus-inspired collection, but Niemeyer actually (and obviously) credits Piet Mondriaan and Gerrit Rietveld, who, technically, were part of the de Stijl movement.
Still, what it is is undeniable: a gorgeous set of blocks in shapes and sizes in a ratio determined by the Golden Section. What is also is is small--a 4.5-inch cube when all 16 blocks are put together--and expensive--$279.
Modulon is available at a few web retailers and museum shops, but since I get a cut from them, I think you should buy all your $279 blocks at the Museum of Modern Design shop on Amazon. [amazon.com]