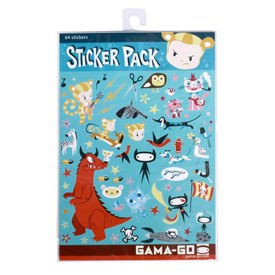 The kid's been a sticker fiend for a while now. I know it seems like a kiddie cliche, but hey, it's a surefire way to keep her quiet and busy for a solid thirty minutes or more, so it's perfect for church, planes, and that last stretch on the turnpike.
My wife's usually the stickerkeeper; she's got the patience required to comb through the giant wall of tasteful, reasonably well designed hegemony that is Mrs Grossman's. Honestly, they're fine, just boring. And frankly, when most sticker designers try to cut loose a bit and produce some "exciting" stickers, they usually just end up looking like tacky junk.
A few months back, I picked the kid up some cutey cute Japanese stickers at that anime convention, but they turned out to be paper and not sticky enough.
Anyway, today at Yoyamart, I got her a pack of stickers from the San Francisco design company Gama-Go, which has been dressing hipsters in character-covered hoodies since 2000. The stickers are a bit weird, somewhere between 50's Disney and Takashi Murakami. But there's variety enough to keep the kid entertained, I think, and coolness enough that I won't mind wearing them on my forehead, which is where they usually end up.
Mrs Grossman's Paper Company "invented" sticker art [mrsgrossmans.com]
Gama-Go sticker pack #2, $5.00 [gama-go.com]