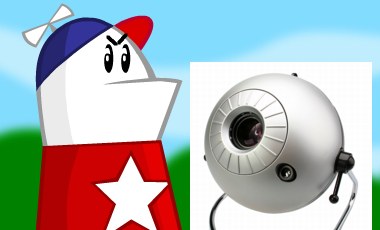 One of the few things we did to "decorate" the kid's nursery--besides painting a couple of the walls a slightly dark royal blue below the thick, eye-level, wooden mouldings--was to stick glow-in-the-dark constellations all over the upper portions of the wall.
Looking back on it, the meticulousness with which we laid out the constellations was hilarious. My wife had picked up some sticker and templates kit from the NASA gift shop [she's a scientist at NASA]. First off, they're obviously meant to be put on a ceiling, preferably a dome vaulted ceiling. But for some reason, I got it in my head that the constellations [which I can barely even identify myself] needed to be in at least relatively correct placement with each other, so we spent a few hours planning, then balancing and sticking little phosphorescent buttons all over the white wall.
What a joke, because you can barely see them. The night light's been on almost constantly for two years, so it's never actually dark in the kid's room. But they're so small and faint, it's almost pointless. But the kid knows they're there now, and every once in a while, she asks for the light off so she can see her stars.
All a long buildup for this awesome-looking home planetarium from Sega Japan, which uses strong, cool LED's to project up to 10,000 stars on the ceiling. It can be set to rotate slowly, there's a sleep timer, and even a shooting star option. The rig was made for Sega by a famous-in-Japan planetarium designer named Ohira something. Although it's not clearly explained, it uses disc-shaped transparencies to project the northern or southern hemisphere's skies. It only requires a 10-foot span, which is perfect for Japan where...everyone...has...11-foot...ceilings. Huh?? Shouldn't it be optimized for, say, and 8-9' ceiling?
Anyway, the name, the Homestar Planetarium, was apparently decided by someone who's never seen Star Wars, never been on the Internet, and who wouldn't know an international trademark search if it bit him in the o-shiri. The price: $229US, to order from toys.brando.com.hk, via coolhunting and gizmodo]
Related: Homestar site [sega toys japan]
Very related: Japanese nursery 'home theaters'
Not at all related, except that it's the SAME NAME: Homestar Runner [homestarrunner.com]