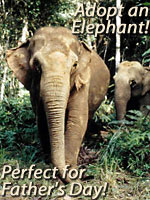 This ad from the World Wildlife Fund was running on Treehugger:"An elephantĺ─˘s powerful trunk is strong enough to rip up whole trees, yet is gentle enough to lovingly caress a calf. Strong and powerful, yet tender and caring--remind you of your dad?
"Adopt an elephant for Father's Day from World Wildlife Fund's Online Adoption Center and let dad know you care!"
Then when you click through, they have photos, just like for Sally Struthers' orphans. I wonder if the elephant will write you a letter?
Adopt An Elephant Prices: Single Elephant: $25, Baby Elephant: $50, Elephant Family: $100, Good Christian Elephant Family: $250 [OK, so I may have made that last one up. worldwildlife.org via treehugger]