As a recovering Disney employee, I've been trying to keep The Mouse's giant, overbranded mitts off my kid for as long as possible. [Actually, the real threat is the Disney Princess Hegemony, but you get my point.] Still, I'm not blind to the appeal of an obscure Disney rarity or oddity, and there are some classic works that I'll be happy to share with the kid at the right time.
And I understand if some folks want to work a bit of the Disney into the nursery or whatnot, to sort of help the kid acclimate to the Magic Kingdom when he goes on the first of his family's annual pilgrimages to Orlando.
It is for just such a family's benefit that I point out these two signs, which are available on the ebay store of MouseSurplus, theme park surplus dealers of Orlando, Florida, and which might look mighty fine in a Moused out guest room, or perhaps impaled in the front lawn, where it can welcome visits from your equally theme park-obsessed friends. They are worn from actual use in Walt Disney World, but then, that's the magic part, right?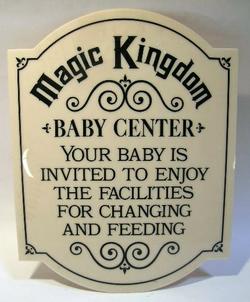 First, the Magic Kingdom Baby Center sign is 19x24 inches, and reads, "Magic Kingdom Baby Center Your Baby is Invited to Enjoy the Facilities for Changing and Feeding." Opening bid: $99.99, auction ends June 15th.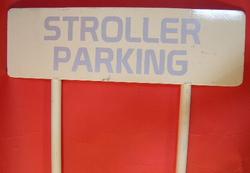 Second, is the altogether more impressive Magic Kingdom Stroller Parking sign. Impressive? But it doesn't even say Disney or Magic Kingdom on it, you say? EXACTLY. Plant this 4-feet x 20-inch solid metal sign near your front door, and it will serve as a test of your friends' true Disney passion. Only the most knowledgeable theme park connoisseurs will be able to tell from the sign's typeface that it once stood in Fantasyland. And that, judging from the way the paint on the back is slightly more faded it must have come from Stroller Parking Area B, on the east of the Mad Hatter's Tea Party. $89.99 to start, plus a heckuva UPS shipping surcharge; this thing weighs a ton.
MouseSurplus.com's eBay store [ebay.com via boingboing]
related: Jeff Lange pokes around the new MouseSurplus warehouse. [jimhillmedia]