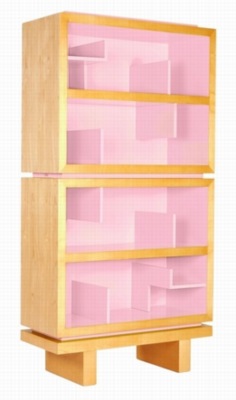 A few months back, we converted the kid's book collection to self-service by moving them all to shelves at her level, and it's been awesome. She pulls books out all the time to have us read to her, she chooses her own bedtime stories [for the most part], and she's even learning a bit about putting them away. The greatest part is to see her plop down in front of her bookcase and read books to herself. She's memorized most of a few books, and she'll rattle them off and even do improv on them.
But I have to confess, we really cheaped out on the her bookcase; the niche we put it in pretty much determined the size, and my wife just got a plain little MDF piece of junk from Target for like $50 or something. Every IQ point she's gained from reading has probably been offset by the bookcase's off-gassing. Oh well.
The Nurseryworks Storytime bookcases look like a great option. They're a well-balanced combination of hardwood [solid ash, stained or natural] and colorfully finished interior. The multitiered shelves have a bit of a Tetris vibe [of course, it's all relative.]--and is probably a necessity until the Kids Book Industrial Complex agrees on standardized sizing.
At $640 or so a unit [they can be single height or stacked], they count as real furniture, not Target or Ikea. But they DO ship fully assembled, so depending on what your billable rate is, the Storytimes may turn out to be the savings-leader based on man-hours alone.
Nurseryworks Storytime Bookcases, $640-1,160 [designpublic.com]
previously: Tetris shelving is now available for flatpack