Last fall, a good family friend got the kid a gift subscription to Wild Animal Baby, basically a baby magazine--for kids ages 6 months to 4 years--published by the National Wildlife Federation.
Who even knew that babies had magazines? Dads don't have magazines, but babies do. In fact, pre-preschool-age kids in the US have not just one, but two major [sic] magazines to choose from, and babies abroad have more than that. What's up with that?
Wild Animal Baby and its main competition, Babybug, are similar in size and format [24 pages of cardstock, no staples, boardbook size] and both magazines seem to serve as gateway drugs to their respective school-age counterparts: Ranger Rick and Cricket [cue major flashback here]
From what I can tell, both are equally saccharine and kind of cheesy, with stock photography of animals and textbooky illustrations, simple matching or color games, and a rhyme or two [almost as content-free as an adult magazine! hey!] The WAB one always starts with, well, a little story of wild animal babies and their moms--always with the moms, oy.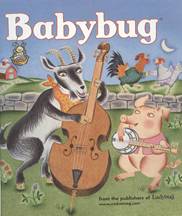 Babybug, seems to have slightly better illustrators--but cheese is cheese, whether it's Velveeta or supermarket Brie--and they also occasionally run actual nursery rhymes, too. There are no ads [except for their own products, like the other mags, books and DVD's.]
I've gotta say, as cheesy as they are, the kid LOVES them; she keeps hers stacked in her room, just like our stack of New Yorkers in the living room [the difference, of course, is that hers get read. a hundred times.] And she really loves getting something in the mail [I guess I could start signing her up for J. Crew catalogues... ]
WAB is $19.95/yr, and Babybug is $36/yr for 10 issues. There's also a baby magazine put out by French nuns [or by their publishing house, Bayard Presse] called Popi, but I've never seen it, either.
Does anyone else's kid get magazines? What do you think of this concept? Are there any that aren't total schlock? And wouldn't you rather have a baby magazine from someone like MoMA instead? Just thinking out loud here...
Wild Animal Baby magazine for babies [nwf.org/kids]
Babybug magazine for babies [cricketmag.com]
"Popi, les błębłęs ont aussi leur journal." [bayardpresse.com]