<!form method="get" action="http://dt-go.com/cgi-bin/mt/mt-search.cgi"> <!input type="hidden" name="IncludeBlogs" value="3" /> <!input type="hidden" name="Template" value="daddy" /> <!input id="search" name="search" style="width: 270px; height: 15px;" /> <!input type="image" src="http://daddytypes.com/search.gif" height="18" width="159" border="0"> <!/form><!br />
Fisher-Price Active Gear: Strollers For Where You LIVE--The Mall
Time was when Fisher-Price was happy to make strollers just for the roundheaded Little People whose faces you'd gnawed off as a child. But you're all growed up now with a kid or two of your own, and corporate counsel declared those cool, old Little People to be liability-laden choke hazards, and so Fisher-Price has turned its attentions to the Real People stroller business instead.
First there was the Target-exclusive Bugaboogery F-P infant-to-toddler stroller. [At JPMA, the Dreamweaver folks who manufacture this rig said its weight limit has actually been upped to 40lbs, not 22 or whatever ridiculously low number was originally quoted. So you won't outgrow it quite as fast as you might've thought. BUT if you do...]
Well, less time than it takes to have Irish twins, they popped out two more strollers, both for multiples. They're part of the Active Gear collection of modern designs "providing on-the-go solutions for families with toddlers and preschoolers." Active Gear also includes a whole slew of purpose-built bags, too: a sleepover bag, a family backpack, a cooler bag, and even a Toilet-In-a-Bag [oops: Potty On-the-Go. my bad. Heads up, entrepreneurs, that TIAB trademark may still be available!]
Snap judgments of the Active Gear gear: they're the strollers American Families want. They're huge and cheap; they can haul a ton of stuff; and they're designed to be integrated with your minivan- or SUV-centered lifestyle.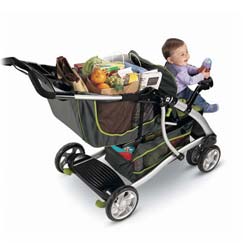 Take the
Stand 'n Ride Duo Stroller,
which looks for all the world like a Graco Quattro Tour with an extended wheelbase. [I say 'looks' because even though I think it IS a Graco, the website talks about F-P not being affiliated with Graco, so I'm a bit stumped.] Now the
Quattro Tour is a fine-looking stroller
[that happens to be a bear to drive, but it's got good bones], so if I was gonna knock off a family stroller, that's probably where I'd start, too.
Anyway, the Duo has a platform or jumpseat in back for an older kid, but it also has an awe-inspiring storage bin that practically turns the thing into a grocery cart. Homeless families will live out of the Duo; Mormon pioneer families will push them across the plains. It's that big.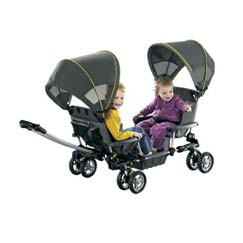 From this non-user's standpoint, though, I think the Kid Utility Vehicle is the real winner. It's like the offspring of a threeway between two old-school, chair-style strollers and a wagon, and it's designed explicitly "to fold so it fits in the back of your family vehicle." It looks perfect for hauling the kids around the mall, or the zoo, or the mall, or--to Costco Or the mall, did I mention the mall? I'd like to see a single, covered wagon-style canopy, but I'm patient enough to wait for some crafty Mormon mom to whip one up for the Pioneer Day parade in Provo next month [July 24th, mark your calendars. Clearly, I caught more than the flu during our recent Utah visit.]
The Active Gear line is exclusive to Toys R Us and Babies R Us stores, and the strollers sell for...a whopping $150 [0.17 Bugaboo Units, practically free.] I'd love to hear some hands-on reports, though, so if you're driving your your wife's minivan by a BRU, go in and check it out.
Active Gear from Fisher-Price [fisher-price.com via dt readers danielle, geoff, mike, & evan]
posted June 5, 2006 2:00 PM | add to del.icio.us | digg this
<!something is wrong with my adserver, so until I fix it, no ads>