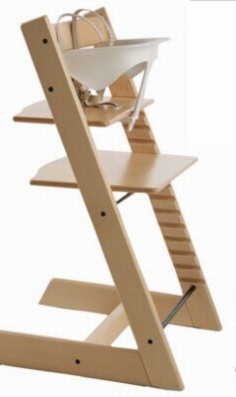 There was talk about this at JPMA a couple of weeks ago, but I didn't make it over to see with my own eyes. But then DT readers Nina, Andy, and Piam have all mentioned it to me, so I thought I'd better catch up.
Even though it was basically the same thing, Stokke USA has always marketed its classic high chair--the Tripp Trapp, designed in 1972 by Peter Opsvik--as the Kinderzeat. Now, though, they're bringing the US market into line, global brand-wise, by discontinuing the Kinderzeat name, and replacing it with the Tripp Trapp. Oddly enough, the "new" Tripp Trapp is more unique and less like the rest of the world's Tripp Trapps than the model it replaces.
The new Tripp Trapp has a bunch of safety features demanded, I'm assuming, by the product liability-obsessed US market, geared primarily to the early [at 6 months or so] adoption of the high chair. While Euros on the Continent have been using the Tripp Trapp mostly as is as soon as their kids could sit up by themselves, the Kinderzeat had always been marketed as being for kids "18-36 months and up."
Not anymore. New baby-friendly features include a 5-point harness [the Kinderzeat has a 3-point belt] and an optional molded plastic baby rail. [Compare this to the UK standards-compliant Babyset, which features a bentwood bracket and a higher, integrated seat rail.] Also new: baby rail-compatible seat cushions, [an option we personally never opted for].
Frankly, the 5-point harness is unassailable, but the plastic rail's no beauty, especially compared to the UK's all-wood options. still, I can see why Stokke'd want to do this; it's gotta be tough trying to sell a high chair you know has worked fine for 35 years, but still having to pretend it's only "for" toddlers. Now, at least, they can actively go after the 6 mos-and-up market. Now, with the Tripp Trapp and its optional accessories, they should be able to win over cautious parents who love the design, but who wanted the safety assurances only a robust product liability lawsuit industry can provide.
TheTripp Trapp from Stokke is available via Amazon it's still $199. The optional baby rail
is sold separately--and only fits the Tripp Trapp--for $39. [amazon.com]
The new Tripp Trapp from Stokke [stokkeusa.com]
Previous Tripp Trapp and Kinderzeat coverage on daddytypes